ELEGA is a family firm from Trebechovice pod Orebem with a rich tradition, dating back to the second half of the 19th Century. We specialise in luxury leather handbags, but our range also includes other accessories such as executive briefcases, laptop bags, wallets and belts. All made from the best Italian and Czech materials. We employ around 40 people in our workshop. Most of our products currently remain in Europe, but our handbags can also be found in Saudi Arabia.
We continue a tradition that is more than a century old, while introducing contemporary elements to our product range. Our handbags are an example of beautiful craftsmanship, where every piece is an original, fine-tuned to the last detail. Every autumn we introduce several new lines of handbags so that our customers can always look forward to something new. Creating new collections that put a smile on the faces of our customers makes us happy.
We are proud holders of the CZECH PRODUCT Certificate. All our products are completely made in our company in Třebechovice pod Orebem, unless otherwise stated (scarves, gloves and some wallets)
Who are we working with?
In 2014 we created a new brand ELEGA by Dana M, which came from a partnership with actress Dana Moravkova. At first, we approached her due to her known interest in handbags and asked whether she would want to wear and endorse our new collection. But it was soon easy to tell that this relationship was only the beginning. The actress does not only like to buy bags, but she has also shown an excellent knowledge of the history and trends in the field. Dana came up with an idea of making a brand-new collection together, combining our experience with her ideas and a feel for detail. Through this, ELEGA by Dana M was created, under which we present a new collection twice a year.
We cooperate with leading Czech and foreign fashion designers and even tailor studios. For luxurious collections, we work with a traditional Czech glass manufacture firm PRECIOSA
The word of the owner, Eva Sedinova:
Our slogan says, ""Handbags are our Passion"".We are truly making them with our hearts. A lot of our employees work for us their whole lives and handbag manufacturing became their reason to wake up every morning. It is not different in my family. We travel around fairs, talk with material suppliers and even other handbag sellers, so we can get our customers the best leathers, keep up with modern European trends and know what our customers dream of. It is a hard, but very fulfilling, job."The owner has been running our company since privatization and thanks to the fact that she herself studied handbag manufacturing, we have the best professional supervision. Together with her family, she oversees the production and running of the entire company.
What can we manufacture next?
Our main activity is the production of handbags, but we are also able to manufacture other products, such as various types of cases, packaging, bags, straps, whether made of leather, leatherette, eco leather or solid fabric. We have produced custom-made smart cigarette cases. For a German customer we produce covers for whirlpools. For the Netherlands we assemble mouldings for oxygen masks. For an Austrian water manufacturer, we produced bottle sleeves made from shredded leather. We have experience in the production of large cases - for guitars, tennis rackets, etc. For other customers we produce products made of genuine crocodile, snake skin or fur.
We are no stranger to any project.
Where can you find us?
You can look through our products on our e-shop or you can visit our brick-and-mortar store in the headquarters of our firm, in Trebechovice pod Orebem.
Do you want to know more about the production of our handbags?
Take a look at the Czech Handbags section. We are not just an e-shop, we are manufacturers, so do not hesitate to contact us as part of warranty and post-warranty service. For more information about these services write an e-mail: d.valentova@elega.cz. Do you like our handbag, but you think the strap is too long? Or would you prefer only metal chain? This is not a problem for us either, contact our customer service.
Do you have your own brand / company?
If you have your own brand and wish to make gifts for your employees or partners, do not hesitate to contact us. We can choose together from our current offer, or we will prepare the product exactly according to your ideas, whether it is for card cases, pens, laptop bags and the like. If you have your own brand and want to produce with us, contact us. You can learn more about custom production here.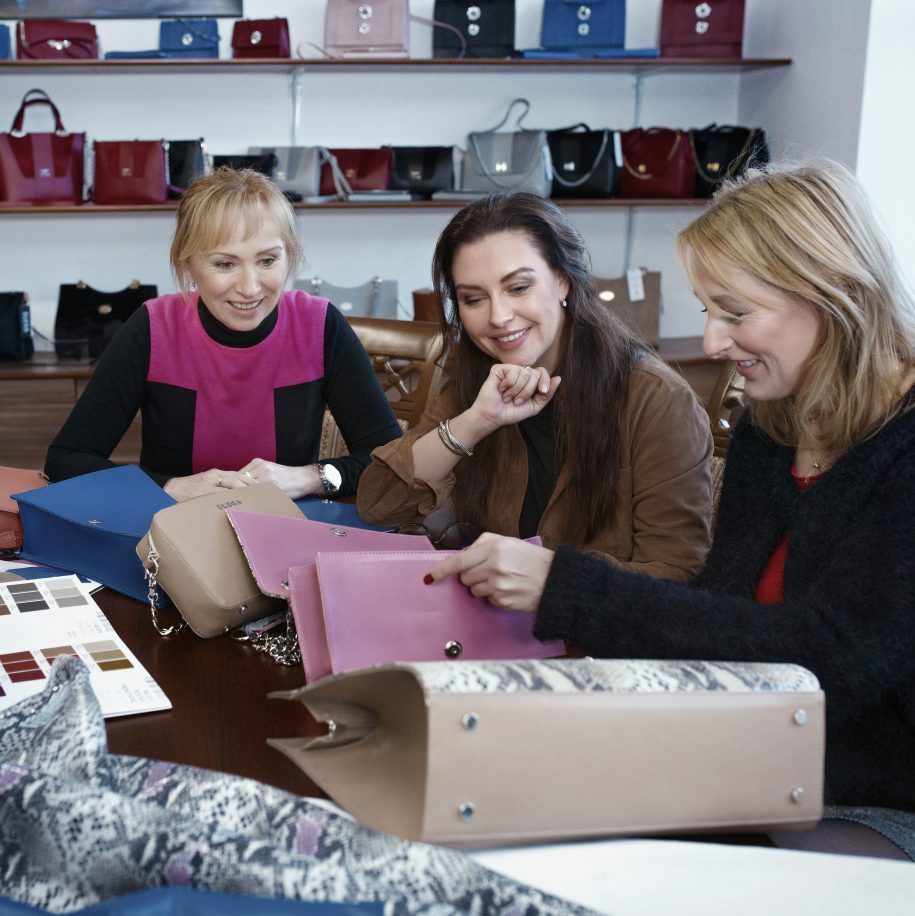 Manažerský team ELEGA, spol. s r.o.